I am sitting on the lake shore and watching first light . Sun rise on the Tanzanian side. It don't climb from water - like at the seaside , but over water ,because this place is surrounded by mountains as far as 1000m hight above water level . Place , where i am is called Ntilinga and it lay only 2 km from well-known Zambia lacation Ndole Bay. Just like every morning there cavorting otters, and tropical Chloroceryle occupies its habitat.

I remember what preceded it, before I got to this fantastic place. Anyway, it all started my interest in the Tanganyika cichlids, which I had kept since 1977. So I actually managed to celebrate this anniversary 25 years - visit their homeland. Before 1989 belonged to me for such a trip in the same category as the way to the moon. Today, when you can travel to different corners of the globe, visiting Tanganyika - it seem like a trip. Unfortunately, the opposite is true. All States , which shares its shores are very poor , and somewhere we can meet with hostility against white men. The most suitable place seems Zambia, with same risks as elsewhere in Africa (sickness, wild animals), but people are still very friendly. Intentionally writing yet, because in neighboring Zimbabwe has also recently haven for white businessmen and tourists. Just the new leadership of the country and we know the outcome of the media.
I managed to contact a travel agency in Zambia applications for installation path to the lake. Their response was shocking for me - A two-week trip would cost about CZK 200 000 - cca 10000 USD. I let this taste go and traveled elsewhere. Coincidentally, I met in 2000 with Doctor Kusy, in the Prague office, I saw hanging on the wall map of Zambia. I asked why this map is hanging here, He replied that there operates his medical practice.
Again confirmed that luck favors the prepared. Doctor promised me to use his knowledge of Zambian situation and help me the way make real. Actually this has happened and we four travelers (well vaccinated ) September 4, 2002, we stopped at the airport in the capital city of Zambia :Lusaka. Second day we went on a jeep trip to the 1200 km long tanganického port Mpulungu. After the first 300 km, we met her future guide aquarium fish hunter Mr. Thorsten Reuter. Instead the meeting was to advance clear - turning to Tanzania. The reality was that the traffic marking the direction of travel here and there so we would, but for massive blowing Flashing lights and oncoming car, Thorsten missed. Road was very good in places and sometimes a completely desolátním in the state. This corresponded with our cruising speed - once "what we can do" and after a while again step. In the evening we arrived in Mpulungu dead tired and stayed in Nkupi Lodge buildings are reminiscent of our nature museum..


After hard sleep under mosquito netting is necessary in the morning, we went boat for sightseeing, so far only associated with šnorchlováním. Diving adder forgotten the indigenous workers at the hunting base. Already the first familiarization with the lake in Port satisfy me ,because there swam around the ship several fish types .Sure I recognized Ophtalmotilapia ventralis i>. In the first breath-dive at the village Kasakalawe I thought:" it is exactly as I imagined. "There was a typical community rocky shore, consisting of the genus Tropheus tlamovci, Petrochromis and Eretmodus. These fish, like most tanganických cichlids, colorful forms of geographical race apart from each other as sands on which these cichlids keep out. Moreover, in different races may have very rarely occur in individuals of a different color. It sounds incredible, but now During our first stop we found a mutant species Eretmodus cyanostictus i> marked by so many blue dots, that to blur blue side. Normally colored bird has a few of those dots. Local Tropheus moorii race is similar to the race from a nearby Mpulungu, but orange stain is more intense and the dorsal fin has a pink tint..
After visiting other sites such as Mpulungu, Katoto or Mbit island,we returned to the dock. Here I have caused General cheerful people, because I was on the landing ship only in a swimsuit and it is not convenient here - T-shirt and shorts are a social necessity. The next day we went early morning boat toward the Bay Ndola. Journey interrupted only stop at Cape Chaitika, known to occur in blue-colored race Tropheus moorii. Towards evening we arrived in the Gulf of Sumba and reported to the local military crew. Soldiers, found two military boats, lying on the shore, were in a good mood and our audience was without problems. It is worth noting that the above mentioned boats had arrived here emigrants from Zaire , and that soldiers were armed with machine guns are well-known model 58th . From Gulf of Sumba it take to go Ntingily less than a hour, and we here at dusk landed. First impressions were very favorable. Four stone buildings were base station. And also fenced kitchen garden to diversify diet. We quickly built a tent, which proved to overnight better than the various bungalows, because there is no need to use mosquito nets. During dinner we got the basic advice regarding residence (eg, right, Don't Walk right way There are black mamba, or at night to pee only with a flashlight), and discuss plans the next day. Our plan was such that we all know during stay all-known deposits and individual habitats (rocky, stony, sandy, muddy and transient). It is worth noting that the neighborhood is fishing station for fish to eat. Chief of station Bulgarian Mr. Dobry and his joy when we saw was great. He knew even Prague and the evening banquet for us by local standards the Royal...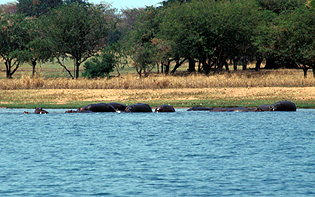 The next day we had prepared and began diving apparatus underwater searches around the base. Visibility here was between 10-20 m, but inhibited shooting small debris floating in water. First, what intrigued me were Lamprichthys tanganicanus the color will smite the sun was fantastic.
I found a mortar position beautifully colored male Cyathopharynx foai i>, lie down to him and took the first shots. Still, I'm not gave my new Digital camera too trusting, I was pleased - easy control and most immediate check just acquired a slide - Totaly perfect. Discomfort was only meeting the strongly poisonius watercobra Boulengerina annulata i> - I assumed that it will be rare, but we saw it during our stay a few more times. Perhaps the most widespread fish is There Variabilichromis moorii i>. We met with her at all shallow rocky sites, where the pair looks after his offspring. At my request, why this fish was among the first species imported from the lake, I by Thorsten got a clear answer: The first imports were from Tanganyika from Burundi and the fish do not live there. "surprise for me was also quite abundance of blue forms Neolamprologus sexfasciatus i>. In aquaria is behaving normally and reproduce yellowish form of this kind, coming from Tanzanian shores. Blue is a southern form was occasionally imported, but there are not previously known cases of reproduction of these fish. For unknown reasons, this fish don't rub in the aquariums. Therefore I was delighted, and underwater observation shooting parents hejnkem spawn in the depth of about 8 m. Neolamprologus Furcifer i> I was surprised by its occurrence and the lagoon, where it passes between the stones - I thought that living in deeper cavities. Unforgettable I was underwater for a meeting with fine cichlidkami Xenotilapia spilopterus i> which are strewn with bright spots of the body. Pairs inhabit the greater depths rocky and stony habitats. Interestingly, the parental couple is divided the care of offspring. The first half carries eggs in females and the second tlamce half takes care of the larvae, which is over 20, male. Lagoon are typical of communities of fish, eating algae growths, which are most intense to a depth of 3-4 m

. Characteristic representatives are here: Tropheus moorii. Are there many colored races, which are usually called by place of occurrence. Sometimes it is called but the race so that we vainly this location looking for. This may be due to the fact that the area where there is simply no way to appoint or on the same site may present two different races. Finally, the hunters instead of competitive reasons secret. For example, as the yellow form T.moorii i> - Nkonde. In vain I searched the name on the map until the its mines near Kasaba Bay, I learned that means in Nkonde native language of a banana. A similar situation is known for latest news Kazumba as Gold. Another typical inhabitants of the rocky shoals are fish genus Petrochromis. Husbandry at the aquarium are the most Petrochromis trewavasae i>, while fish from the south coast are the dots on the body of knowledge larger than the northern population and P. FAMUL. Here I took quite a lot expanded version of the Kaiser. Communities have added Eretmodus cyanostictus i> the southern form is characterized by bright blue spots on the body. Next days we visited other sites. Ndola Bay - you can watch the community underwater sandy plains mainly fish genus Xenotilapia i> and Callochromis i>. Chimbu, which is the name of the village and around 15 m depth, we are seeing tremendous flock Cyprichromis leptosoma i>. Lagoon live there in flocks of red race Tropheus moore i. Kate - here we have the dip experienced enough in waves of fear among the rocks, but we saw a beautiful Ophtalmotilapia nasuta "Tiger". Kachese with its familiar form T.moori and also crocodile so large that our guide in prayer before dinner, thanking God, that not attacked us. I do not forget the trip to Kasaba Bay, where we at engine failure just narrowly escaped the hippos attack and saw so many crocodiles , that we were afraid to leave the boat to shore. When I realized that - It is the only place on the Zambian shore, where wealthy tourists fly, ( to pay 160 dollars a night and could not even swim here), so I felt sorry for them. Not far away is the site where is living a wonderful form T.moori i> i "Ilanga. Catching these fish is due to the presence of crocodiles difficult, it corresponds to their price.


On the return trip at night with coughing engine we probably never forget. Waves, dying engine, dark, shore in the distance only guess, and there was no landmark. Our feelings are intensified by the experiences of just ending day. In the pocket are my matches and I say : "It could in case of wreck save us , and therefore must not dunk. " Finally we can say the engine and boat make inroads into the waves. Over time we see a little light on the left side - a garrison in Sumba. Voltage is decresing, we're out of it. Per hour actually we are landing at our base.


Days passed quickly and it was time to return. We went on two stages, because we spent the night near Kapemby the vast wilderness. Here I am at morning dive watch fishing Cyphotilapia frontosa i> and Aulonocranus dewindti i> in friction. In the evening we arrived in Mpulungu and after the overnight parted with out guides. We waited a long way back to Lusaka and then even a trip to Botswana and Victoria Falls - but it is already different story.